Simple Centered Pan & Tilt
From ItsQv
| | |
| --- | --- |
| | |
|   | Simple 9g Servo Pan & Tilt |
Introduction
The first Pan & Tilt I tried was a very inexpensive unit from HobbyPartz.com which came with two 9g 180 degree servos for ~$13.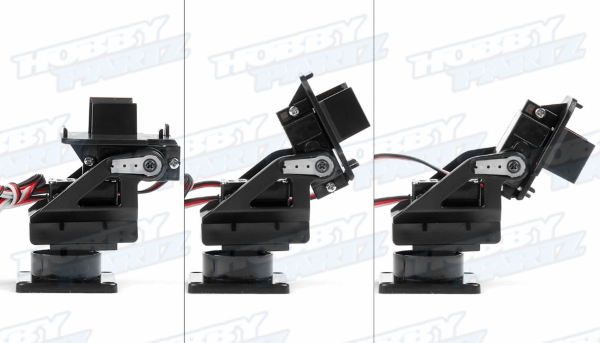 HobbyPartz Pan & Tilt
This P&T (Pan and Tilt) was really made to hold a small board camera and case so the platform was never quite right to put a Mobius on. So, my first change was to print my own top plate which had rubber band posts and clearance to get the right angles. This lasted exactly one flight when the gears on the tilt servo stripped for no other reason than they were just cheap plastic gears.


I took this idea and designed my own base to mount on the deck of my Mini Talon. This puts the servo below the gimbal and takes its weight off the rotating mass. The lower bracket then is just a simple 'U' shaped piece with a servo arm attached to the bottom. The new camera plate has a slightly expanded servo cradle so I could use a better servo. The tilt functions nicely from 0 - 100 degrees. The pan is dependent on the servo used.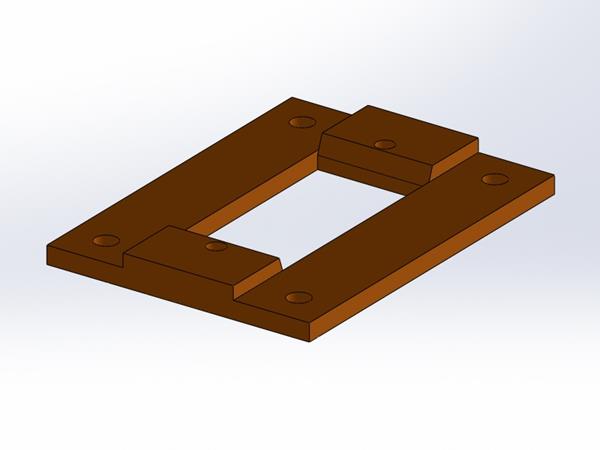 Base servo plate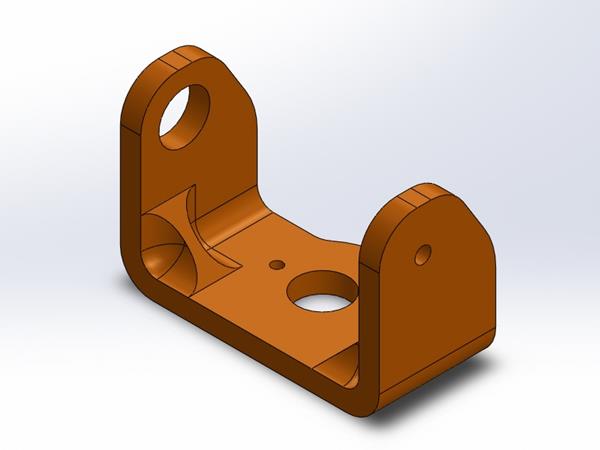 Lower 'U' bracket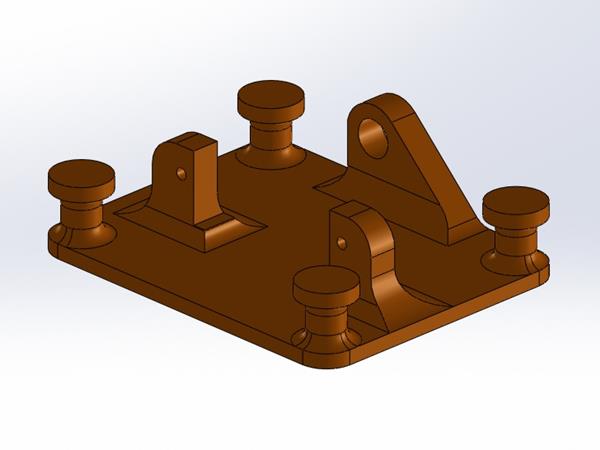 Camera Plate
Parts List
Servos & Hardware

2ea 9 gram x 2Kg Servos, 1 modified for 180 degree travel
4ea M2x6 socket head cap screws
4ea M2 flat washers
4ea #1 x 1/8" flat head sheet metal screws
Align PJ Gel Pad (optional)
Small wire ties
3D Prints
Camera Mount Plate - PnT_Camera_Plate_v02
Yaw Bracket - PnT_Lower_Bracket_v02
Yaw Servo Mount Plate - PnT_Servo_Bracket
Tools needed
1.5mm ball end driver (allen wrench)
Phillips head screwdriver
2mm tap and tap drill
Camera

Mobius with lens '2C' modified for vertical mount


Files
Here are the print files if you would like to give this a try. The zip contains the printable pieces and image files, simply richt-click the link and select "Save Target" for the download. If you would like the native SolidWorks files, please drop me a line (below) and I will accomodate.


Mobius Compact Pan and Tilt v1 ZIP


Comments? Questions?
See Also