Hyperion Sniper X II
From ItsQv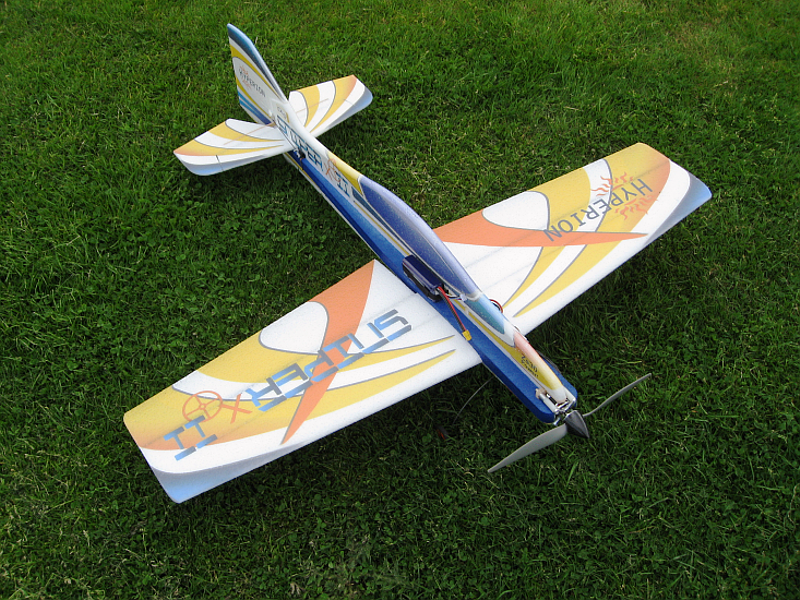 General Specifications
Manufacturer - Hyperion
Aircraft - Sniper X II
Build Date - April, 2011

| | | | | |
| --- | --- | --- | --- | --- |
| Airframe Type - | Mid Wing EPP Foamy | | Flying Type - | Super 3D |
| Wingspan = | 47 inches | | Length = | 48 inches |
| Wing Area = | 516 sq. inches | | All-Up Weight = | 24.9 ounces |
| Motor - | ExceedRC Optima 3010-910 | | Wing Load = | 6.95 oz/sq. ft. |
| Propeller - | 12 x 4 | | Power = | 380 watts |
| Thrust = | 58 ounces | | Thrust/Weight = | 2.32 |
| Battery Type - | Lipoly 3S1P | | Capacity = | 1800 mah |
| Speed Control - | PA Quantum 40 Amp | | BEC - | Internal |
---
Image Gallery
| | |
| --- | --- |
| | |
| With the Thrust 30 motor | Clean! |
| | |
| Side view of hinge mods | View from the bottom showing the balsa shape |
| | |
| Fiberglass strengthening around the LG block | Bottom view showing the wrap |
Commentary
Flying at an all electric event, I saw a couple of guys flying larger, 48" 3d foamies and I was immediately impressed. They flew so slow and smooth and they were clearly tough enough to take a beating. They also didn't seem to fly like other smaller planes, much more well behaved. I decided I must have one as a 3D training/practice plane.


The three planes of this size that I saw were these:
Hyperion Extra 300
Kaltesian Edge
Telink Extra
Unfortunately, the one that was the most interesting, the Kaltesian, is no longer made. Further bummers were the cost of the other two at around $150ea. So I did some searching and found this gem for $99 from RCDudes.com. Awesome!

It was delivered in two days and only took a couple of hours to build. I started with a motor I had from the PA 260, a Thrust 30 and a 13x6 Xoar prop. this is way more power than needed with 70+ oz of thrust. For a battery, I'm using both blue 3S 1800's and Nanotech 2200's.

The maiden and subsequent 20 or so flights were amazing. Almost no trim needed with the CG at 140mm and beautiful hands off inverted. Hovering and knife edge was killer easy as were all manner of spins. Great fun! Of course I then dumb-thumbed it...

Busted the nose up and broke the motor shaft. Repair was easy and I then changed the motor to a lighter lower power Turnigy unit. With this I am using a 13x4 APCe prop which still will kick out 65oz of thrust but the prop speed is down 25%. The flights are now much slower and more conducive to proper 3D. I'll write more after a couple dozen flights and I may try an APCe 11x5.5 prop as well.

Update
OK, I'm now well over 60 flights with a couple of heavy dumb thumb incidents and I still love this plane. It is so easy to fly relaxed and work on smoothness and I have no stress over trying anything right on the deck.


Mods
June 23, 2011
I have made a couple of changes. First I tore the rudder off while dragging it through the weeds doing these really slow inverted 8's. To fix this, I added some balsa angle to the fuse (see picts), double beveled the rudder and set it all up with extra wide CA hinges. The rudder is now perfectly centered and actually easier on the servo. I added two small carbon fiber braces to the rudder as well to stiffen it up

Next I changed the wheels to 2" Hyperion and put 3/4 ounce fiberglass on the fuse sides around the landing gear block. I cut out a single piece that wrapped over the fuse. I then wetted the fuse with slightly thinned 30 minute epoxy and layed the glass over it. Next I brushed on a thin coat of epoxy to the outside of the fabric, covered it with wax paper and clamped two smooth pieces of wood over the sides. You can see in the pics where the fused cracked above the glass from one of my dumb thumb manuevers which is why i think I should have made the glass a little bigger.

Lastly I swapped out the old CC Pheonix 40 ESC for a PA Quantum 40. The PA unit has a much better throttle curve and never losses sync (squeal). This is one component where quality really makes a performance difference in 3D.


But wait, there's more
August 16, 2011
OK, so I crash this bird a lot. I've busted the nose off of this guy 4 times now and it is getting to the point where it is almost more glue than foam. This last dumb thumb incident really busted it up so I decided to try something new with regards to what goes into this repair.


I found some very thin, very light CF tube at HobbyKing. The dimensions are 10mm OD x 9mm ID and it weighs just .53gr per inch. Because there are so many glued cracks and seams in the nose, my thinking is to add some larger, deeper stiffeners from the motor mount rearward to just behind (1") the wing leading edge.


So using a piece of the CF tube, I dremmeled a bunch of teeth in one end and used it as a core drill down the fuse stiffener. It was easy to to twist by hand and bore a nearly perfect hole. I cut two pieces 9" long, one for each side.


Next I drilled two 10mm holes in the motor mount to accept the tubes. I then spread welders inside the tube holes in the foam and also on the tubes themselves and pushed them into the holes. I added the motor mount parts and seated the tubes into the mount and let it all dry. I used thick CA and activator around the mount and a little epoxy to seat the tubes.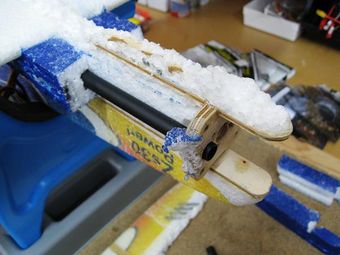 Last part was to glue in place all the busted up foam pieces which included notching the side stiffeners to go over the CF tubes.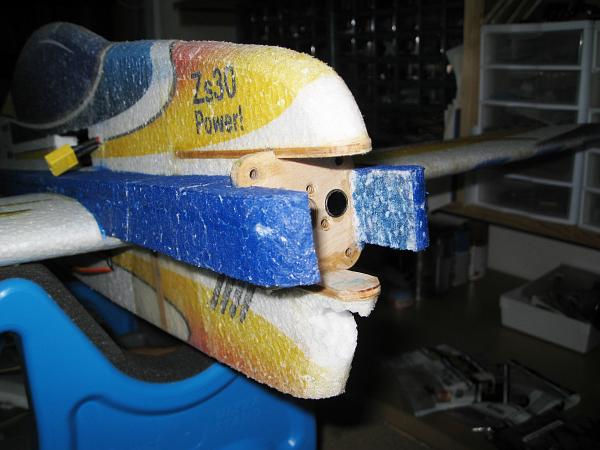 Wow, is this stiff now! All told this added about 3/4Oz (~20gr). Stay tuned for follow up...

But wait - New Motor!
I changed (again!) to an Exceed RC 3010-910Kv piece from HobbyPartz. This motor is the champ! It is inexpensive has a low Kv so I can use a larger, flatter prop and it runs smooth. I am currently running a 13x4 APCe prop cut down to 12". I have tried a Xoar which is excellent but expensive on a foamy.


Buy recommendation - You bet!
Build skill - Novice/Intermediate (ARF)
Pilot skill - Novice/Intermediate (3D)
Lesson learned - Don't be a dumb thumber!