Talon X-UAV Mobius Gimbal Project
From ItsQv
| | |
| --- | --- |
| | |
|   | Talon front mount 2 Axis gimbal |
Introduction
Expanding on several solid camera mounts, I added a 2 axis, roll and pitch, brushless assembly to the fron of the Talon. The idea was to get it to fit inside the clear dome and while I was able to do this, the dome itself did not prove to be that useful as it very quickly became scratched and always had a slight reflection problem. So I chopped the dome up just enough to clear the sight lines of the camera and it worked very well smoothing out the pitch and roll.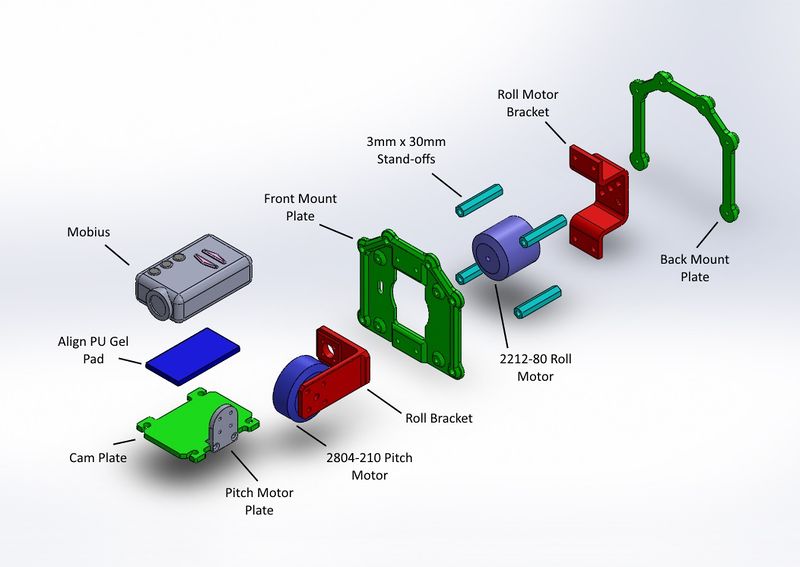 Exploded view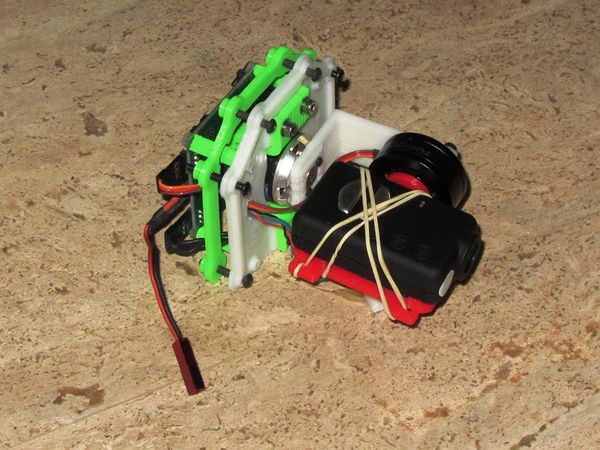 Front corner view of assembly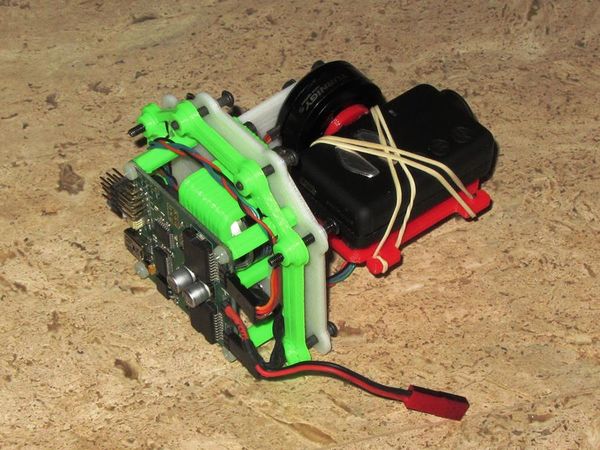 Rear corner view of assembly
Parts List
Motors, Controller & Hardware

1ea HK2804 gimbal motor
1ea iPower 2212 Brushless Gimbal motor
Storm32 v1.1 or newer brushless gimbal controller
Various M3x8 socket head cap screws with flat washers
6 M3x6 flat head screws
Align PJ Gel Pad
Small wire ties


3D Prints
Camera Base Plate - Mob_Gim_Plate_v001
Camera Roll Plate - Mob_Gim_Roll_Plate_v001
Roll Arm Bracket - Mob_Roll_Brkt_v003c
Roll Motor Bracket - Roll_Motor_Brkt_v002
Assembly Back Plate - MOB_MNT_BackPlate_v001
Assembly Front Plate - MOB_MNT_FrontPlate_v004
Camera

Mobius with lens '2C' modified for vertical mount


Files
Here are the print files if you would like to give this a try. The zip contains the printable pieces and image files, simply richt-click the link and select "Save Target" for the download. If you would like the native SolidWorks files, please drop me a line (below) and I will accomodate.


Talon Mobius 2 Axis Gimbal ZIP


Comments? Questions?
See Also
TBA